Game designed by
Mareike Zerpner, Maren Duda, David Pusch & Stefan Deutsch
The Story
"In the year 1845, two ships, HMS Erebus und HMS Terror headed towards the Arctic to reveal the last unknown section of the Northwest Passage. They disappeared forever.
For many years, Lady Jane Franklin, widow of Sir John Franklin, the commander of the expedition, sponsored or otherwise supported several expeditions to determine his fate.
This is the story of one of these expeditions.

It is the year 1857, and the 3-mast gaff-schooner steam yacht "The Hart" heads towards King William Island to find traces of the lost Franklin Expedition. They found proof that Sir John perished in 1847, but they never found any trace of the ships.
Instead, they found something far, far worse…"
The Event
Erebus is a 3 day nordic-inspired horror larp on the schooner Pippilotta, moored in a harbor on the Schlei. The game will deal with themes of civilisation vs. nature, sexism, cannibalism, insanity, deprivation, sickness, religion and the supernatural.

The game uses a variety of methods including pre-written character sketches, non-linear time, black box and shadow play.
There will be no sailing during this larp. The ship will move from Kappeln to Maasholm harbor only and stay there for the duration of the larp.
You will board the ship in the port of Kappeln (Schlei). We have collected information on how to get there in a document.
Date: February 2023
Location: Traditional Ship Pippilotta, Kappeln (Schlei)
Price: TBA
Player's Guide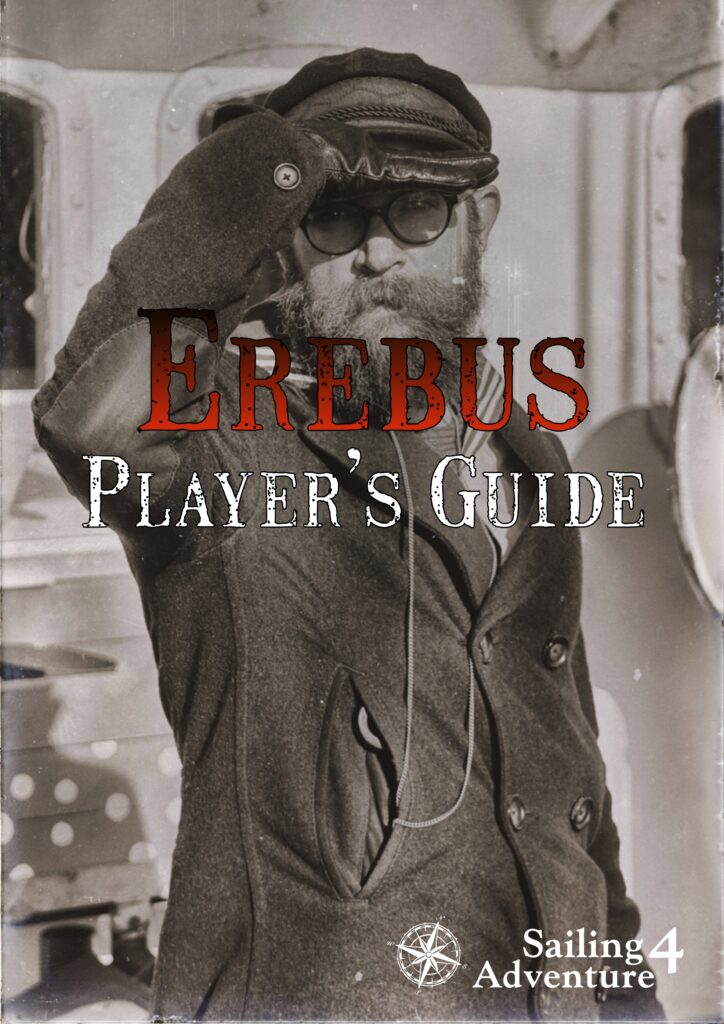 We have collected all you need to know about this event in the Player's Guide. It also contains travel information, packing lists, et.al.